PANDORA BOXX (AKA MICHAEL STECK) - (Pre-show)
Drag queen, actor, comedian, recording artist, writer Pandora Boxx is best known as a contestant on the smash hit RuPaul's Drag Race (Season 2 and All Stars). Despite not winning, Pandora proved to be the break-out star and was named by Entertainment Weekly as their "America's Next Drag Superstar." EW.com said that hers was "the most controversial elimination of the season." Fans voted her "Miss Congeniality" of the show, winning by "a landslide." That popularity lead to becoming a drag professor on the spin-off show RuPaul's Drag U (Season 1 – 3) for which she was voted MVP by fans of the show. Pandora has also appeared in her own GLAAD award winning Absolut 'Cocktail Cabaret' commercial and had a sold out hit off-Broadway comedy show called Lick This Boxx. She's even appeared as a video game vixen in the app RuPaul's Drag Race: Dragopolis. Pandora has opened for artists like LeAnn Rimes, Chely Wright and comedy legend Roseanne Barr. pandoraboxx.com
KELLY MANTLE (Marion Crane/ Lilah Crane. Emma Spool) Oct 23rd
Kelly is thrilled to return to "Psycho" after his star turn in WE-HO and Palm Springs. KELLY MANTLE can currently be seen in the feature film "Confessions Of A Womanizer" for which he made Oscars history by being the first person ever to be approved and considered by The Academy for both Best Supporting Actor and Best Supporting Actress. He is the first openly gender-fluid person to be considered for an Oscar. Kelly is also featured in the movie "Middle Man" alongside Jim O'Heir and Andrew J. West in theaters now. Kelly has guest-starred on a whole bunch of TV shows like Rizzoli & Isles, Eagleheart, The New Normal, Curb Your Enthusiasm, Mike & Molly, New Adventures of Old Christine, Southland, CSI, Judging Amy, Nip/Tuck, Cold Case, Will & Grace, George Lopez, and a recurring role on NYPD Blue. Kelly was featured on LOGO's stand-up comedy special, "DragTastic NYC." Kelly also had a co-star role on Season Six of "RuPaul's Drag Race." As a stage actor, Kelly has starred in over 50 plays in the theatre. Kelly wrote & starred in his critically-acclaimed one-person show "The Confusion Of My Illusion" which was produced at the Lily Tomlin/Jane Wagner Theatre at the L.A. Gay & Lesbian Center. As a singer, songwriter, and musician, Kelly has released three albums which have been hailed by critics everywhere. Kelly is currently in the studio finishing up his fourth album to be released later this year. Kelly grew up in Oklahomo like his uncle, the late great Mickey Mantle. (Yep...Kelly's a switch-hitter too.) Kelly received a B.F.A. in Theatre from the University of Oklahoma and is a graduate of Second City in Chicago. To keep up with Kelly, go to www.kellymantle.com.
JONNIE REINHART (AKA Anita Procedure) - (Marion/ Lilah/ Emma) Oct 24th- 25th
Jonnie has been taking Los Angeles by storm since 2016 with live vocal performances, vintage glamour, and charming wit. He has performed alongside Broadway's Michael Arden, Andy Mientus, Jai Rodriguez, and Darren Criss, and has appeared in Palm Springs with NYC sensations The Skivvies. He hosts numerous events throughout LA, including karaoke every Tuesday at Revolver in West Hollywood, and he is the host/curator of A Queer Cabaret, a variety show at Darren Criss' Tramp Stamp Granny's in Hollywood. He performed his solo show "Anita Procedure: Adult Performer" in NYC in August at The Laurie Beechman Theatre to rave reviews. He has also appeared on TV- on Paramount's "Lip Sync Battle" and on Bravo's "Watch What Happens Live". @anitaprocedure
MICHAEL LEVINE (Sam Loomis)
An L.A. native, Michael is "psyched" to reprise the role of Sam, having played him in every MASQ production of the show, and is truly honored to be in such good company. As a child, he toured the country as Kurt in "The Sound of Music." Last year he sang in the chorus of the world premiere of Swan Lake: The Musical starring Carrie Manolakos & Andrew Lippa. Favorites include originating the roles of Marius in Les Miserables: School Edition in NY for M.T.I., (also cast recording) and Chickensh*t in Jagged Little Pill at Rockwell Table and Stage and in Phoenix, Rent (Mark), bare (Matt), Hair (Claude), and Fugitive Songs for the Fringe Festival. @MichaelNLevine
CALPERNIA ADDAMS (Mrs Chambers)
Calpernia Sarah Addams is an American author, actress, musician and spokesperson and activist for transgender rights and issues. In 2002, she formed Deep Stealth Productions in Hollywood with Andrea James. Deep Stealth creates educational and entertainment material around gender-identification issues and the experiences of differently-gendered people. Addams and James coached Felicity Huffman for her Academy Award-nominated performance as a transgender woman in the film Transamerica. At the Sundance debut of Soldier's Girl, Addams met Jane Fonda, whose son Troy Garity had played Winchell. Fonda suggested Addams mount an all-transgender production of The Vagina Monologues, it became the subject of the 2006 documentary film Beautiful Daughters.
A reality television series entitled Transamerican Love Story, featuring Addams debuted in 2008 on Logo TV. In April 2008, Addams performed alongside Fonda, Glenn Close, Salma Hayek, Alicia Keys, and others in a tenth-anniversary production of The Vagina Monologues at the Louisiana Superdome. In 2015, Addams appeared in the international premiere of "Trans Scripts" a new play by Paul Lucas at the Edinburgh Festival Fringe in Scotland, where it received numerous awards.
ERICK HOLLOWAY (Norman Bates)
Erick Holloway has spent most of his time on stage lately with his rock band Star Off Machine; however, he is no stranger to plays and musicals and is thrilled to return as Norman after playing him in Palm Springs. Some of his favorite productions in which he has performed include, Private Eyes, Burn This, Jesus Christ Superstar, Funny Thing Happened on the Way to the Forum and Sweet Charity. Erick also has enjoyed directing productions including True West and Play It Again, Sam. He studied Theatre at St Ambrose University and is pleased to be joining such a fun cast in this zany production of Psycho The Musical Parody!!!
CHRIS TILLEY (Sherrif Chambers/ Phantom)
Chris, another original member of the cast who has appeared in all 4 versions, is thrilled to reappear in "Psycho". A Meisner trained actor - graduate of the William Esper Studio in NYC, he's performed on stage in "Major Barbara" with Brave New World Rep Theatre; the Midtown International Theatre Festival, Manhattan Rep Theatre with "Breaking Up is Hard To Do," and been featured on the CW's "The Carrie Diaries" shaking his tail feathers. The short film "Oak Bones" he is a part of will be released to film festivals this year.
GUADALUPE CHAVEZ (Phantom) San Francisco/ Palm Springs '17/ Long Beach
Guadalupe Chavez was born and raised in Albuquerque, NM and now calls Los Angeles his home. He is a trained classical ballet dancer, aerialist, actor, and singer with a career spanning over 10 years. He has danced for various companies such as Ballet Repertory Theater, Air Dance NM, New Mexico Ballet Company and most recently, Disney. He returns to the role of "Phantom" after joining the show during it's San Francisco production.
CHRISTOPHER G. CARVER (Det Arbogast/ Dr, Hedra Bloch)
(Director/ Executive Producer)
DIRECTOR- Fav's include "Hair" (MACHA) "Xanadu", "Fame", "Footloose" (The Strawberry Bowl), "Neil Simon's Fools", "Be Prepared" (World Premier), "The Women", "Stage Door" and "The Girl Who Would be King" (TheaterOut) ACTOR - LA favs: "The Lost plays of Tennessee Williams" (LA Weekly Award), "Women Over the Influence" (w/ Julie Arenal), "The Importance of Being Earnest" (A.A.T.), "The Magic Hour" (with Ed Asner), and "Baby with the Bathwater" (ADA award). He had the pleasure of working with Ray Bradbury when Ray revived "Falling Upward" at LA's Falcon Theater. East Coast: original casts of "Psycho the Musical" and "The Legend of Lydia". Regional: "The Heidi Chronicles", "A Chorus Line", "Gypsy", and "Greater Tuna" (Best Actor- Georgia Theater League); TV/Film: "Parents Just Don't Understand" THE MAJESTIC, SURVIVING GILLIGAN'S ISLAND, and "American Dreams". christopherglynncarver.com
ALISA VILENA GERSTEIN (Choreographer/ Associate Producer)
Alisa is thrilled to have choreographed the Palm Springs Premier of Psycho! the Musical . Born and raised in Los Angeles, Alisa has been a singing-dancing actor for the past decade. She has trained in all styles of dance from Ballet to Ballroom to Tap with Prima Ballerinas from the Bolshoi Theatre, with Arlene Kennedy (the founder of the world famous Kennedy Tap Company), with Ballroom World Champion Nadia Eftedal and many others. Her past choreography credits include "Psycho the Musical (West Coast Premier W-HO & SF), "Hair" (L.A Revival), "Music Man", "Little Mermaid", "Hairspray", "Annie", & "Fiddler on the Roof" and she has appeared as a dancer on Dancing with the Stars. Alisa's acting credits include Ray Donovan (Showtime), Ghost Whisperer (CBS), Victorious (Nick), Punk'd (MTV) Stage credits include Ariel Moore (Footloose), Helen Keller (The Miracle Worker), Lady Macbeth/Helena (The Shakespeare Project) and Maria (iWitness; Mark Taper Forum).
JOHN YOUMANS (Writer Book/ Music Lyrics)
John Youmans, a GA native, began his career in the theatre as a bassoonist in the orchestra . He later took on a wide range stage roles in numerous regional theatres and touring companies in the south and mid-west. He is co-founder of Trembling Earth Productions which was formed in 1996. His other writing credits include, "The Legend of Lydia, Queen of the Swamp", (Georgia's official historical musical of the great Okefenokee), "A New Twist on Dicken's" and "The Salem Witch Project". He has been in numerous films and just completed dual roles in the upcoming, Spook Bridge. Other film credits include, Grandma's Blessings, Automaton Transfusion, Lonely Hearts and Winter 1914. He served as Artistic Director for the Molly Brown Theatre in Hannibal Mo. and the Colonial Player's in St. Mary's Ga. He won the Deep South Theatre Coalition best director award for a revival of "The King and I". John is the proud father of a son, Tony and grandfather to five!
GRAHAM JACKSON (Organist)
Graham has been a theater/ musical theater educator for numerous schools including LACHSA, Marlborough School, Theater 360, My Art, MET 2, and Covina High. As an actor he has worked with Theater West, ZOO District, Sacred Fools, Evidence Room and Getty Villa. As a founding member of FSHA, he brought "Go True West" to Suzuki's Spring festival in Toyama Japan. Directing credits include "Cabaret", "Urinetown", "Into the Woods", "On the Town", "Sweet Charity", "Sweeny Todd" and many more.
TERRY RAY (Det. Arbogast/ Dr. Hedra Bloch/ Alfred Hitchcock)
​West Hollywood/ San Francisco/ Palm Springs '17/ Long Beach
Also a returning member of the cast, having played in all 3 versions, Actor / writer Terry Ray is the creator, writer & star of HERE TV's first sitcom "FROM HERE ON OUT" with Juliet Mills. Ray is the co-writer of the upcoming TV movie "THE JONESES: UNPLUGGED" starring Mischa Barton. He's the co-writer & star of the multi-award winning short film "GAYDAR" with gay icon Charles Nelson Reilly as Terry's uncle, as well as the new comedy series "MY SISTER IS SO GAY" (playing exclusively on Tello Films) with the lovely Loni Anderson starring as Terry's mother. Search YouTube for "SHE'S STILL ON THAT FREAKIN' ISLAND" to catch an ongoing spoof of "GILLIGAN'S ISLAND" Terry writes and stars in with Dawn Wells (Mary Ann herself). Ray recently starred for an extended 11 week run in the world premiere of his critically acclaimed play "ELECTRICITY". Terry has numerous TV & film credits and "PSYCHO" is Terry Ray's 89th play. For more info: www.TerryRay.TV
IMONI PHOENIX (AKA ARMOND ANDERSON BELL) (Hitchcock/ Mrs Chambers)
West Hollywood/ San Francisco
A true man of many talents and looks. Armond is an Actor, Drag Queen Entertainer(Imani Phoenix), Professional Makeup/Special Effect Artist and a Blog Talk Radio Host. Prior to Acting, Armond has worked in the fields of Broadcast Journalism, Hiv/AIDS Educuation and Mental Health Case Management. Recent Acting gigs include two Voice Over Projects, A Sears and Kaboom Commercial Pitch Champaign and in 2016 Armond was awarded the LA LGBT's Center first ever DRAG ICON AWARD. Truly honored and pleased in reprising his Duel roles in Psycho the Musical and to once again work with this amazing production and even greater cast. Follow Armond on all social medias outlets or contact armond143@gmail.com for future project details and updated information.
MISTY VIOLET (Marion Crane/ Emma Spool)- San Francisco
David was born a little Latino boy in Tucson Arizona who always had dreams of being a star, little did he know it would take turning into a dumb white woman to make it happen. Misty Violet is affectionately known as the empress of Ignorance, duchess of dumb, valedictorian of absolutely nothing and of course Queen of stupid. She can be found performing almost any night of the week in West Hollywood combining movie star looks with the IQ of a potato. She can also be seen featured on buzzfeed, multiple music videos, tv, film and modeling designer costumes both in front of the camera and on the catwalk. As her training is in theatre, Misty was thrilled to perform in "Psycho the Musical"
www.missmistyviolet.com for more info!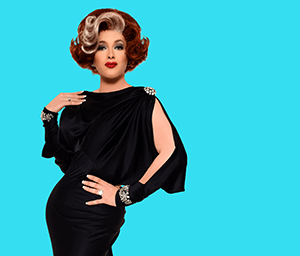 KATYA SMIRNOFF-SKYY (AKA J. CONRAD FRANK) (Shopper) San Francisco
Katya has enthralled bay area Audiences for years with her unique Blend of Opera Pop and Booze. With a Career spanning a very…very long time. Katya Claims to have invented Popera, romanced WIlliam Shatner, and lived across the Hall from John Lennon at the Dakota during her infamous 1970's stint in NYC. Once Eastern Europe's most sought after Mezzo Soprano… Understudy, she now spends her evenings crooning and drinking her way threw the finer theaters, bars and bathhouses of America. Named "Best Drag Act 2008" By the San Francisco Bay Guardian and best "actor in a a musical BATCA (Katya a Holiday Spectacular 2009), Katya has appeared in various theatrical runs and nightclubs. Including sold out runs at the Rrazz room, Feinstein's, The New Conservatory Theatere, the Eureka theater, and 10 years of monthly shows at Martuni's. Katya is a producer of "The Cabaret Showcase', now in its six year, and played Blanch Hudson in "Baby Jane"
MICHAEL MITTMAN (Norman Bates) West Hollywood
Psycho was Michael's Macha Theater debut. He was recently seen in The Boy From Oz at the Celebration Theater (Scene Stage LA Award). Some other recent stage credits include BSC's Urinetown (ITL Nomination), Cabrillo Music Theater's Damn Yankees (Stage Scene LA Award), Ragtime (SDMT), Evita (Theater Latte Da), Rocky Horror Show (Cardinal Theatricals), Bent (The Lowry) and A Funny Thing Happened on the Way to the Forum (The Jungle Theater). He is a graduate of NYU's Tisch School of the Arts.
HAMID JAHANDARD (Phantom) West Hollywood/ Palm Springs '18
Hamid J was proud to make his stage debut with at the Macha Theatre after spending time working on his first EP, titled "The Baus". He has previously performed and directed the signature student production TAKE at his alma mater, Cal State Northridge. An avid soccer fan and soccer referee himself, Hamid draws on his experiences having lived on three continents. Whether performing on stage, writing songs, dancing or creating laughs in a comedy club, he is passionate about the arts and keeping the audiences entertained. He was thrilled to be a part of "Psycho - The Musical".
KEVIN THOMPSON (Norman Bates) San Francisco
Kevin Thompson is new to the stage but not new to acting. He has performed for local television in Arizona and at the world famous Queen Mary Hotel for multiple events. Additionally, he has been recognized with multiple awards for his acting including "Best Lead Actor in a short film" from the Flagstaff Film Festival.
JESSE PUDLES (Mrs. Chambers) Palm Springs '17
Jesse Pudles is extremely excited to making his "Psycho: The Musical" Debut as Mrs. Chambers. Other recent shows include Black Widow Laughs (Hollywood Fringe Festival), Alice and Wonderland, I'll See You Around (Macha Theatre), and Midsummer Nights Dream (Shakespeare Orange County). He will be making his feature film debut in the dark comedy "Groupers", out in December. Jesse wants to thank his family for all their love and support. He is simply "dying" to perform for all of you!
RICH GO-2 (Phantom) West Hollywood
Rich is an actor, musician, and record producer originally from Los Angeles with a Master's Degree in Music Theatre from the Royal Central School of Speech and Drama, and a Bachelor's Degree from the Berklee College of Music. Most recently seen in the world premiere of the musical adaptation of Shakespeare's Winter's Tale at the Minack Theatre in Cornwall, UK, Rich was excited to be a part of this production of Psycho The Musical at the Macha Theatre.
THOMAS BRADFORD (Phantom ) West Hollywood
Thomas Bradford has has appeared in productions like "The Odd Couple" and "Girls Just Wanna Have Fun". Starting off in acting classes in high school, he soon had found out how much he really loved it. He was offered the opportunity to dance, prior to never having any experience, he says "saying yes was one of the smartest decisions I made, I didn't realize i'd love it as much as I did". Thomas lives in Long Beach, California and gives his thanks to everyone that has supported him and helped get him to where he is today.